When it comes to manufacturing or repairing things made of metal, we can do it and we do it well! Our two Louisiana facilities are strategically located in Lafayette & Shreveport allow us to provide easily accessible metal machining, fabrication, and repair services for all industry types, including manufacturing, construction, oil and gas, transportation, agriculture, forestry and restaurant.
Our Products/Services include:
Manufacture & Repair of Stabilizers
Stubbing of Stators
Tubing Hangers
Adapters
Mud Motor Parts
Lubricators/Risers
BOP Rams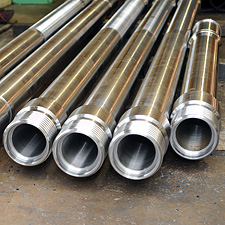 MetalCraft can manufacture any part or tool. Bring us your specifications and we'll be happy to discuss your project. For unique parts or repairs, we can handle just about any request.
For customized machining and repair, we pride ourselves in being innovative and imaginative in the type of products we can produce and in the growing types of industries we serve.
Contact us with your ideas or needs and we'll do our best to work up an affordable, high quality solution, whatever your type of industry or product.