Upon acquiring Shreveport, Louisiana-based MetalCraft Manufacturing in 2008, company owner Todd M. Leleux brought his backgrounds both as an engineer and businessman together to build upon MetalCraft's already strong history of delivering high-quality metal manufacturing and repair services backed by close attention to the needs of customers.
With a focus on advanced machining technology and adherence to the highest quality standards in hard metal application and custom parts manufacturing and machining, Todd doubled the capacity of the company in just a few short years. Since 2008, the company has broadened their client base both geographically and in the scope of offered services.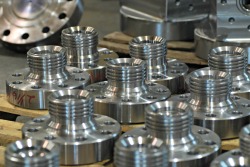 In 2011, MetalCraft Manufacturing expanded into the Lafayette, Louisiana market with partners Garland Champagne and Jeff Prejean, bringing their 70+ years of experience in the repair and manufacturing of down hole oil tools to the service of MetalCraft's customers.
Today, MetalCraft serves clients across a broad range of industries including manufacturing and petroleum through its two Louisiana locations with firms such as FMC, GE and Halliburton counted among its customers. Yet MetalCraft also serves its smaller clients with that same quality and attention– customers who have needs every bit as critical as larger firms.